KAYA HAIR TRANSPLANT
AP

PROACH
Kaya Hair Transplant Solution is a minimally invasive advanced Follicular Unit Extraction [FUE] method of hair transplantation which involves no cuts. stitches or scars. Hair follicles from a hair-bearing area called donor area (which Is usually the back of the head) are transplanted to the balding area. This is a long-lasting hair regrowth solution.
Expert Dermatosurgeons who have performed more than 2000 successful Hair Transplants.
Completely Natural Looking Results.
Most advanced, safe and high efficacy building procedure.
No cuts, stitches or scars.
World class infrastructure.
Easy investment.
KA

YA's EXPERT

DE

RMATOSURGEONS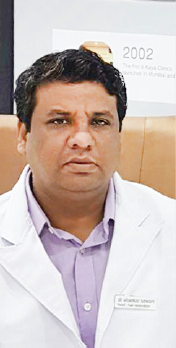 Dr. Shankar Sawant
M.B.B.S. M.D. (Dermatosurgeons), Bandra, Mumbai
Hair Transplant & Dermatosurgery
Over 15 years of clinical experience.
Over 2000 successful hair transplants
Trained in advanced hair transplants in Korea.
One of the most experienced hair transplant doctor in the country.
Skin & Hair Care Solutions
About
Kaya Clinic

,

Bandra West

We, at Kaya, recognize everyone's aspiration to be naturally beautiful. Kaya is India's leading chain of dermatologist-backed clinics committed to delivering flawless skin and healthy hair. Equipped with state-of-art safe technologies, our solutions span from Laser Hair Removal, Anti-Ageing, Pigmentation, Acne, Scars, Hair loss, thinning, Hair transplants and a wide range of dermatologist formulated retail products. You are welcome to visit the Kaya Clinic in Bandra West for consultation at a time suitable between 10:00 AM - 08:30 PM. The Bandra West Clinic has 4.2 star rating, which pays testimony to the quality of consultation and services provided by our team of expert dermatologists. Scroll up to read our customer reviews and find our exact location in Bandra West, Mumbai. Do call us on +919322795024 or book an appointment so that our team of dermatologists can serve you better. more...
Categories
Hair Transplantation Clinic
Skin Care Clinic
Hair Removal Service
Laser Hair Removal Service
Dermatologist
Also listed in
Dermatologist near Bandra West
Skin specialist Bandra West
Skin doctor Bandra West